Nima Riahi
Getting to work on an E-Bike
When it comes to the morning commute, often you are given a choice between driving, public transport, cycling and if you are lucky enough to live close to the office, walking. For many, cycling is an ideal choice, especially when moving around busy cities with high traffic levels.
Once the decision has been made to cycle into school or work, there are two options, a traditional bike or an E-bike. Not sure what to choose? Well, we are here to tell you about the benefits of commuting with an E-Bike.
E-Bikes are a great workout.
By commuting to work by bike, you are guaranteed to burn a few calories. With an E-bike, you don't technically need to pedal too much and even when you do, it's assisted. But E-bikes are surprisingly just as effective as a standard bike. An hour on an e-bike can burn over 500 calories!
This healthy travel option will burn fat and build muscle, reducing your risk of illnesses, such as heart disease and diabetes. You are pumping blood around the body, working your heart and lungs and increasing your overall energy and stamina. You will be fit and energised, ready for your work or school day.
You can read more about the health benefits of an E-bike in our blog post here.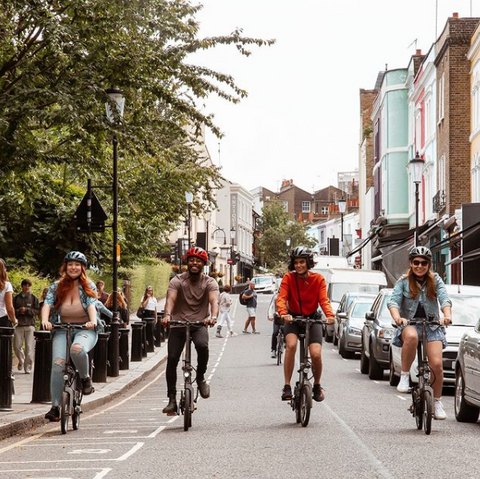 It wakes you up, ready for your day
As we just mentioned, a ride on a bike in the morning is a great way to keep you energised. Even just a short cycle will give you more energy to burn through throughout the day, increasing your brain activity. And, if you get a little tired, the pedal-assist of an E-bike will give you the help you need to get to your destination.
The fresh air of the outdoors, even in the UK, will be sure to wake you up. The sunshine is a perfect way to start a lovely day. So, what If it's raining? Well, that will keep you motivated to get in the warmth of your office. Plus, a cold splash of water to the face will keep your eyes open.
You can read about keeping your E-bike running during the hot weather in our blog post 'Keeping Your E-Bike Running Smoothly in the Summer'.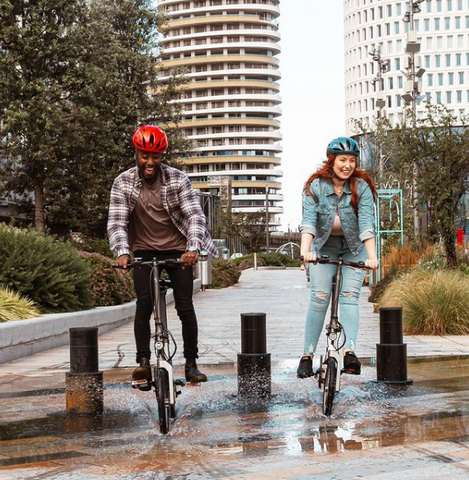 Great for the environment
Cycling is altogether great for the environment, especially compared to the bus, train or car. According to 'Environmental Protection UK' Road transport is one of the biggest sources of pollution in the UK. In fact, it counts for 22% of the total UK emissions of Carbon Dioxide (C02). It doesn't help that of the 34 million vehicles on our roads, 28 million are cars. The group has suggested one of the best ways to reduce this figure is for more of us to find alternative ways to travel…. like cycling (the only thing you are burning is your breakfast).
Furthermore, 'Bike Rader' has found that cycling has a carbon footprint of about 21g of CO2 per kilometre, less than a tenth of driving emissions. They also calculated that If pedalling replaced driving, this could make a net reduction of 7.7-million tons of CO2 annually, equivalent to 6% of the UK's transport emissions.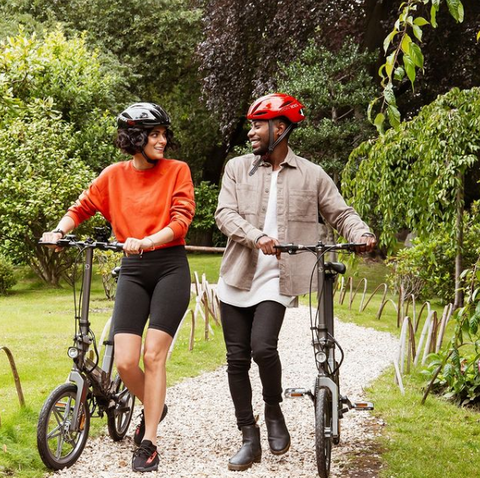 Electric Bikes are lightweight and foldable.
Some work commutes require a short journey on the train or bus, so it's important to have a bike that accommodates your full commute. That's why our E-bikes are easy to fold and carry, making them ideal for taking on public transport. Once folded, the bikes are easy to fold and store in the workplace or at university. You can keep them safe and by you, instead of outside at a bike rack.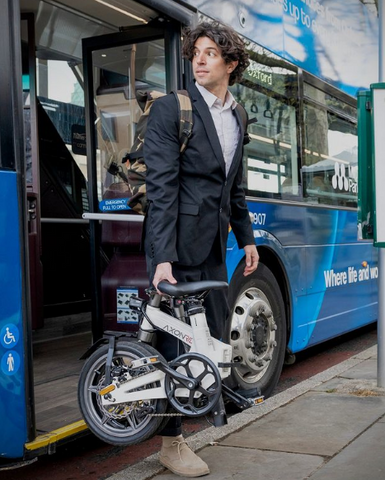 You can take a test ride.
Axon Rides E-Bikes have locations all around the UK that offer demo rides, so you can test an e-bike that is ideal for your commute. It's always ideal to try before you buy.
You can see our full list of stockists here.
You can also read our latest blog post 'How to Book a Demo Ride with Axon'.
Sources:
https://www.environmental-protection.org.uk/policy-areas/air-quality/air-pollution-and-transport/car-pollution/
https://www.bikeradar.com/features/long-reads/cycling-environmental-impact/