Nima Riahi
We are pleased to announce that Central E Bikes stock Axon Electric Bikes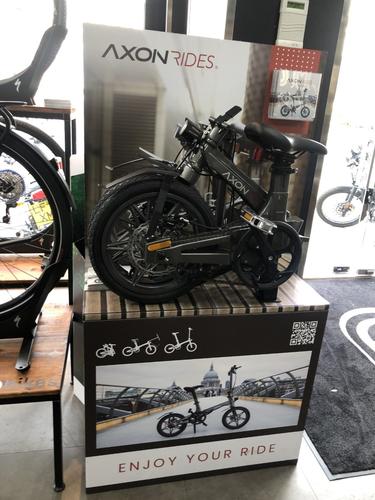 Who are Central E Bikes:
Central Bikes was started back in 2003 with a small workshop in Central London with the aim to help busy commuters get their services and repairs carried out with minimal disruption to their daily commute. We then took on Piaggio and became a main dealer selling new and used bikes, as time went on we expanded with another shop in Shepherds Bush and became a multi franchise dealer.
During the crazy year that was 2020 we were able to open our sister company Central E-Bikes within our Shepherds Bush Showroom, providing electric bicycles again our main aim to provide another 2 wheel commuting solution for the busy Londoner.
We heard about the Axon folding e-bike range and thought they would be the perfect fit with our commuting ethos. A lightweight, compact e-bike, perfect for taking on the train and storing in the office or perfect for busy London Roads
Why Axon:
"They offer high quality bikes that are easy to carry and great for the environment. Axon bikes are perfect for any commuter".
Opening Times and Address:

Central E Bikes
15 Shepherds Bush Rd
Hammersmith
London, W6 7LX

Ph: 020 3987 6666

Website: Central E Bikes

TUESDAY – 08:30-18:00
WEDNESDAY – 08:30-18:00
THURSDAY – 08:30-18:00
FRIDAY – 08:30-18:00
SATURDAY & SUNDAY – CLOSED

Retail:Demo's Available