Nima Riahi
We are really excited to announce that Deens Garage has joined the Axon Rides family, stocking our foldable electric bikes.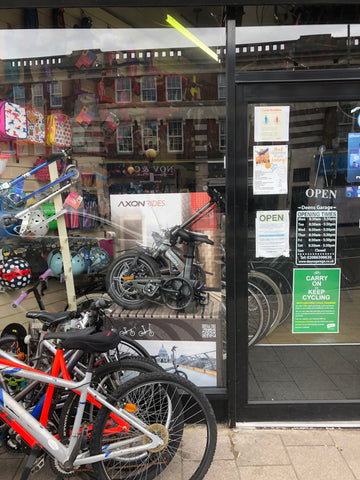 Who are Deens Garage:
Deens Garage have been around since 1913 and is a family run business that believes in the traditional values of good quality products and service. They also carry out repairs in their on-site workshop with experienced cycle mechanics. Most importantly, everyone at Deen's Garage are bike and cycling enthusiasts!
Their experience and range of services compliment Axon Rides ethos of trying to get people out of their vehicles and out onto the street, exercising in short steady bursts and creating a new surge of people wanting to get fit and be kind to the environment.
Electric bikes are here to stay, they are a practical clean alternative to using your car or public transport with the added benefit of you getting fitter.
Why Axon:
"We are really looking forward to working with AXON RIDES. Axon's Bikes are exciting and new, and we feel they would bring a new sense of fun into our store. Being small, lightweight and compact, they are the perfect addition to the Commuter Market in London, but also Deens Garage."
Opening Times and Address:

Deens Garage
439 Croydon Road
Beckenham, England BR3 3PP, United Kingdom

Ph: 020 8650 0630
Fax:

info@deensgarage.co.uk

MON 8.30-17.30
TUES 8.30-17.30
WED 8.30-17.30
THURS 8.30-17.30
FRI 8.30-17.30
SAT 8.30-17.30
SUN CLOSED

Service:

Service centre

Retail:

Demo's Available