Nima Riahi
We are really excited to announce that Bike Bros, our first store in Guildford to stock the Axon Rides folding e-bike.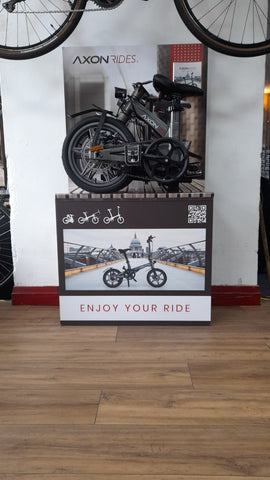 Who are Bike Bros:
The bike shop with a difference. Bike Bros. is your local independent bicycle shop. We offer the best prices for repairs, maintenance and bicycle sales! The vision for a community and environmentally friendly bike shop is what resulted in a brand new concept for a bicycle shop in the heart of Guildford.
Their experience and range of services compliment Axon Rides ethos of trying to get people out of their vehicles and out onto the street, exercising in short steady bursts and creating a new surge of people wanting to get fit and be kind to the environment.
Electric bikes are here to stay, they are a practical clean alternative to using your car or public transport with the added benefit of you getting fitter.
Why Axon:
"We have chosen to work with AXON RIDES because they offer a product in a market that we currently don't offer to our customers."
Opening Times and Address:

Bike Bros
25 Woodbridge Hill
Guildford, England GU2 9AA, United Kingdom

Ph: 07462 408606
Fax:

support@bike-bros.co.uk

Monday 10 am – 6 pm
Tuesday 10 am – 6 pm
Wednesday 10 am – 6 pm
Thursday 10 am – 6 pm
Friday 10 am – 6 pm
Saturday 10 am – 2 pm

OR with an appointment

Service:

Service centre

Retail:

Demo's Available