Nima Riahi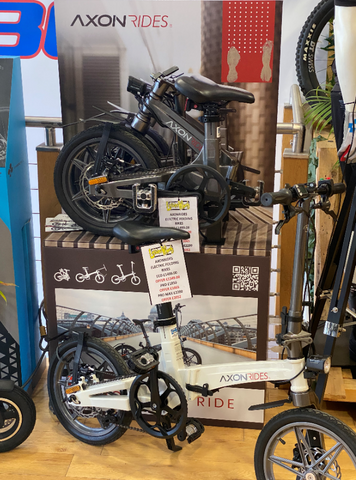 Who are Leisure Wheels: They are a 3rd generation family run cycle shop established in 1985.
Cycling has always been in our family from our grandparents in the 70's right through to today's generation who regularly compete on and off-road.
All the staff are regular cyclists on road and mountain bikes and we've even BMXer on the team!
We had been looking for a quality efolding bike brand to compliment our large range of ebikes we have on offer , we are excited to partner with Axonrides our new efoldingbike partner
Why Axon:
"Their experience and range of services compliment Axon Rides ethos of trying to get people out of their vehicles and out onto the street, exercising in short steady bursts and creating a new surge of people wanting to get fit and be kind to the environment.
Electric bikes are here to stay, they are a practical clean alternative to using your car or public transport with the added benefit of you getting fitter".
Book a demo today, contact the store directly.
Opening Times and Address:

89 High Street
Hemel Hempstead
Hertfordshire, England HP1 3AH, United Kingdom

Ph: 01442 213401
Fax:

info@leisurewheels.co.uk




Service:

Service centre

Retail:

Demo's Available