Nima Riahi
Need a lightweight, foldable and affordable E-Bike for commuting or urban exploring?
Well, we believe that you should be able to find a E-Bike that's right for you. That's why you should try before you buy. Many of our stockists have the option for you to book a Demo ride to test out a number of our electric bikes before making a commitment.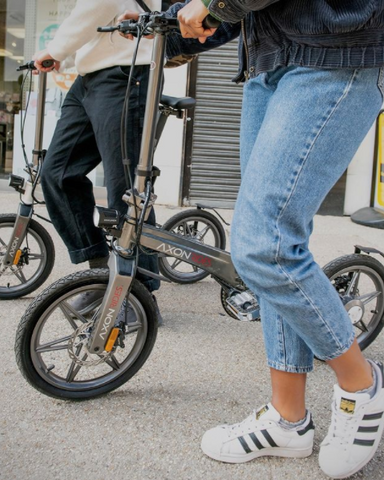 So where can you book a Demo Ride?
Location: 5-7 Central Hill, Croydon, London, England SE19 1BG, United Kingdom 
Who are Blue Door Bicycles:  Their experience and range of services compliment Axon Rides ethos of trying to get people out of their vehicles and out onto the street, exercising in short steady bursts and creating a new surge of people wanting to get fit and be kind to the environment. 
Location: 15 Shepherds Bush Rd, Hammersmith, London, W6 7LX 
Who are Velospeed: Velospeed have been experts in selling electric bikes since 2009. We're proud to have the best ebikes in the country for sale here at our showroom in Berkshire, near Reading and Newbury, with easy access from the M4/A34 and heaps of free parking. If you're looking to buy an electric bike then you really need to come and have a look at our bikes for men, women – and families.   
Location: 439 Croydon Road, Beckenham, England BR3 3PP, United Kingdom 
Who are Deens Garage:  Deens Garage have been around since 1913 and is a family run business that believes in the traditional values of good quality products and service. They also carry out repairs in their on-site workshop with experienced cycle mechanics. Most importantly, everyone at Deen's Garage are bike and cycling enthusiasts! 
Location: 10 Horseshoe Park,  Pangbourne, England RG8 7JW, United Kingdom 
Who are Pankhurst Cycles: We love bikes, and everything to do with cycling. We are here to help you with every cycling need you may have from your child's first bike, to your commuting bike, your sportive bike or even your professional race bike. If you buy a bike from us, we pride ourselves in providing the perfect bike for you. Every road bike comes with a comprehensive bike fitting to ensure it fits you in every way. We always take time to ensure you're 100% happy with your bicycle. 
 
Location: 711 N Circular Rd, London , England NW2 7AX, United Kingdom 
Who are Electric Bicycle Company: Electric Bicycle Company is family run business formed in 2011. We want to combine great service and quality to give people a simple and reassuring experience when they buy an electric bike. We want to make browsing and choosing an e-bike a breeze, and with our expertise and experience we will always find the right bike for you! 
Location: Heathrow Cycle Hub, Newall Rd, Hounslow, London., England TW6 2AP, United Kingdom 
Who are Runway Cycles: For almost ten years we have been on hand to assist the ever growing workforce of Heathrow Airport and the surrounding local areas in everything bicycle related. Whether you are new to cycling or a seasoned rider we are here to offer you everything you need.   
Location: 89 High Street, Hemel Hempstead, Hertfordshire, England HP1 3AH, United Kingdom 
Who are Leisure Wheels: Cycling has always been in our family from our grandparents in the 70's right through to today's generation who regularly compete on and off-road. All the staff are regular cyclists on road and mountain bikes and we've even BMXer on the team! 
Location: 25 Woodbridge Hill, Guildford, England GU2 9AA, United Kingdom 
Who are Bike Bros: The bike shop with a difference. Bike Bros. is your local independent bicycle shop. We offer the best prices for repairs, maintenance and bicycle sales! The vision for a community and environmentally friendly bike shop is what resulted in a brand new concept for a bicycle shop in the heart of Guildford. 
Location: 26 Western Road, Stratford-upon-Avon, England CV37 0AH, United Kingdom 
Who are Warwickshire eBikes: Electric Bike specialists. We provide a friendly and professional service for existing and potential Electric Bike customers. We stock and deal in a number of trusted brands, which allows us to offer a large range of Electric Bikes. Customers are welcome to view our current stock online or at our showroom in Stratford-Upon-Avon where we offer short, COVID-secure test rides. 
Location: Ampere Road, London Road Ind Estate, Newbury , England RG14 2AE , United Kingdom 
Who are Chain Worx: We're an independent cycle shop, based in Newbury at the MotorLux Mazda showroom on Ampere Road. We stock some of the best bike brands, including SCOTT, Marin, Raleigh and Ridgeback, we also have a full workshop with Cytech technicians. 
Location: 22 Temple Street, Keynsham, Bristol, England BS31 1EH, United Kingdom 
Who are Bath EBikes: We have a good selection of electric bikes from £1799 in stock and ready to go. Come and browse, or make an appointment to have an informal chat & test ride, get the low down on our different bikes, and the type of E-bike that will best suit your needs 
Location: 15 Shepherds Bush Rd, Hammersmith, London, W6 7LX 
Who are Central E Bikes: Central Bikes was started back in 2003 with a small workshop in Central London with the aim to help busy commuters get their services and repairs carried out with minimal disruption to their daily commute. We then took on Piaggio and became a main dealer selling new and used bikes, as time went on we expanded with another shop in Shepherds Bush and became a multi franchise dealer. 
John Wood's Cycle Repair Centre:
Location: 62 High Street, Bristol, England BS15 3DR, United Kingdom 
Who are John Wood's Cycle Repair Centre: John Wood's Cycle Repair Centre is the evolution of, the always cherished, John Woods Cycles in Hanham, Bristol. We aim to provide solid and useful advice to customers. If you are looking for honest and sensible solutions to all of your cycling needs, at John Wood's Cycle Repair Centre we pride ourselves on being open and honest. 
Location: 82 King Street, Cambridge, England CB1 1LN, United Kingdom 
Who are Barton Bikes: Barton Bicycles is a traditional independent bicycle shop located in the heart of Cambridge. We supply, service, and repair both new, used, and electric bikes for the local community, as well as provide services such as vintage & retro restoration and E-bike conversions. 
Hampshire eBIKES:
Location: 1 Hunting Gate, East Portway Business Park, Andover, England SP10 3SJ, United Kingdom 
 
Who are Hampshire eBIKES: As an award winning electric bike specialist, Hampshire eBikes prides itself on quality, value and, above all, service. As eBike enthusiasts we are always pleased to offer free advice and test rides by appointment, and ship anywhere in mainland UK backed up by a strong technical team and UK wide support network. 
Location: Bon Velo, 495 Norwood Road, London, England SE27 9DJ, United Kingdom 
Who are Bon Velo: Bon Velo bicycle shops in Herne Hill and West Norwood, South London. We believe in good cycling – fast, friendly and stylish! Our shop is designed to be bright, fun and shopper friendly. 
Location: Tennis Centre, Chestnut End, Halton, Aylesbury, England HP22 5PD, United Kingdom 
Who are OTEC Bikes:  OtecBikes is set in the beautiful grounds of Halton UK tennis centre looking out at the Chiltern Hills.  Our team are passionate and knowledgeable about all things bike related. We are a small specialised shop and we only stock items we genuinely want to use ourselves. 
 
Sprocket Science: 
Location: 26 High Street, Watlington, Oxfordshire, England OX49 5PY, United Kingdom 
 
Who are Sprocket Science: Sprocket Science has been in Watlington for exactly 7 years, when we dipped our toe in the water to see if there was any local need for a bike service shop. Almost 4000 serviced bikes later we are very well established and pride ourselves on the quality of our service, attention to detail and going the extra mile (or 1.6 km for roadies) to provide this service. 
Locations: 9 Bridge Street, Leighton Buzzard, England LU7 1AH, United Kingdom 
Who are Dorvics Cycles: Dorvics Cycles is the true local bike shop for Leighton Buzzard and the surrounding areas. We're in a shop where bikes have been sold continuously for nearly 100 years. We believe we're the oldest bike shop still operating in Bedfordshire, and – as far as we know – in the surrounding counties of Buckinghamshire, Cambridgeshire, Hertfordshire and Northamptonshire, too! 
Location: 124 Erith Road, Bexleyheath, Kent, England DA7 6BU, United Kingdom 
Who are White's Cycle Centre: We are a family run company opened in 1984 believing in look after our customers, & treating them the was we like to be looked after with respect, honesty & looking after there best interests as you may have seen on our Google & Facebook reviews that we are proud of. 
Location: 365 LONG RD, Canvey Island, Essex, England SS8 0JQ, United Kingdom 
Who are Les's Cycles: Serving customers in Essex and across the UK since 1976, Les's Cycles offer Bikes and E-Bikes for every age and ability! Shop in-store and online. 
Location: A370, Hewish, Western Super Mare, England BS24 6RT, United Kingdom 
Who are Theat Leisure Shop: That leisure shop is a family and friends run business in North Somerset. Part of the Motorhome Holiday Company we are specialists in outdoor leisure.  
Location: UNIT 7 LAKESIDE PLAZA, BRIDGTOWN, Cannock, England WS11 0XE, United Kingdom 
Who are Bridgetown Cycles: Bridgtown Cycles is a long established local bike shop providing excellent customer service and products to the local community and beyond. We sell quality bikes & accessories for all the family, ranging from children's bikes to high end carbon race machines built to cover any terrain whether it be on road, gravel or hitting the trails. 
Can't see your local stockist? To find a bike that fits you, you can book demos to try out our E-bikes at your local supplier. 
To book a demo and find your local stockist, click here.