Nima Riahi
Why You Should Buy A Folding Electric Bike.
When deciding to buy an electric bike, the standard non-folding bike comes to mind. The non-folding bog-standard bike looks almost identical to the usual bikes you see on the road, tacking up room in the cycle carriage, strapped to the back of a car or propped up again a bike rack. However, a better alternative is a foldable electric bike, and we are here to tell you why.
With that in mind, here are the top 10 reasons to buy a folding E-Bike.
1) Foldable E-Bikes are easy to carry. Electric bikes are easy to pick up and move around. Carrying a foldable e-bike is comparable to holding a briefcase. For an Axon bike, the high-tech magnesium alloy frame makes this one of the lightest electric bikes on the market, weighing in at about 14.5Kg.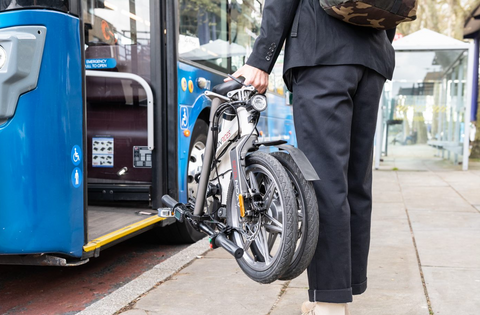 2) Foldable E-bikes are easy to take on public transport. Some work commutes require a short journey on the train or bus, so it is essential to have a bike that accommodates your entire commute. Being able to fold a bike makes them easier to take on public transport. You will no longer need to wait for the bike carriage on the train or stand at the front of the bus.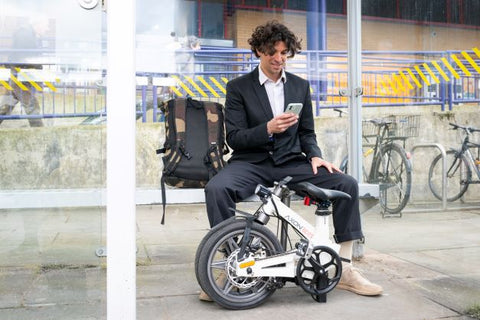 You can read more about the benefits of commuting by e-bike in our blog post here.
3) Foldable E-bikes are easy to bring into the office or university. Once you have reached your destination after your morning commute, you need to put your bike away, whether that be at work or university. For traditional bikes, that is putting your bike outside in a bike rack. Luckily, with a foldable bike, you can keep them under your desk, in the staff room or even in a locker.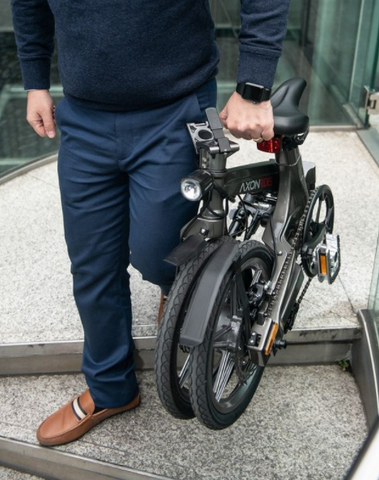 4) Foldable E-Bikes are easier to keep safe. In England and Wales, just over 77 thousand bikes were stolen in 2020/21. 40% of these were stolen while being chained to a bike rack outside. As you can keep a foldable bike by your side, they are much safer.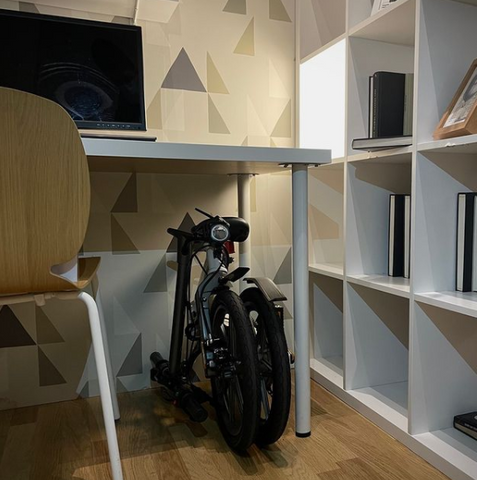 5) Foldable E-bikes are easy to store at home. After your long day at work and commute home, you need somewhere to put your bike. Most apartments and homes do not always come with a garden or garage, so you may have to keep your bike inside. Luckily, foldable e-bikes do not take up much room, so they can be stored somewhere small and tucked away. Axon bikes are small enough to keep under the stairs, by the clothes rack or in the cupboard.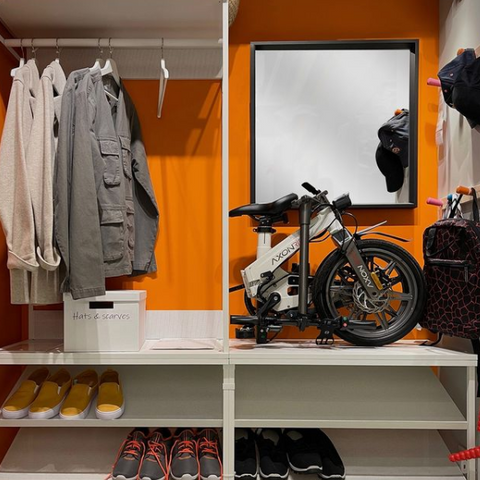 6) Foldable E-bikes are easy to bring in a car. As foldable bikes are so compact, you do not need to attach them to a car rack. You can simply put them in the boot. This is great for those who love to cycle on UK holidays or explore further away cycle routes. As your bike is being kept inside the car, you also reduce the risk of the bike falling off/ out the car mid transport or being stolen at rest stops and even traffic lights.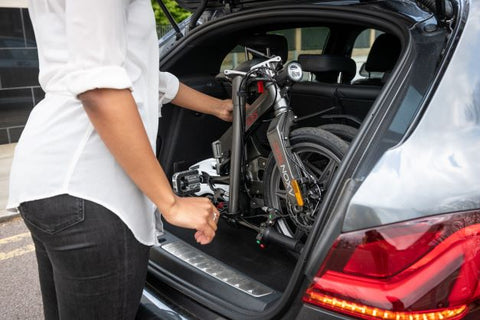 7) Foldable E-bikes look stylish. There is just something about the look of an E-bike when it is folded. Would you agree? Depending on your style, you can choose from one of Axons models, with your choice of white, light grey or dark grey finish.
You can browse the full collection here: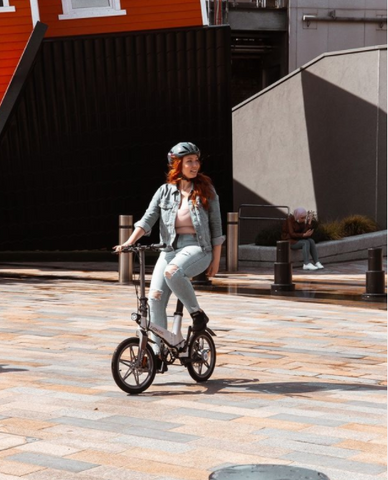 8) Foldable E-bikes are better for the environment. A foldable bike is designed to be small and compact. Therefore, as we pointed out earlier, you can take these on public transport, reducing the need for a car. This travel alternative means you will be using less fossil fuel and reducing your carbon footprint.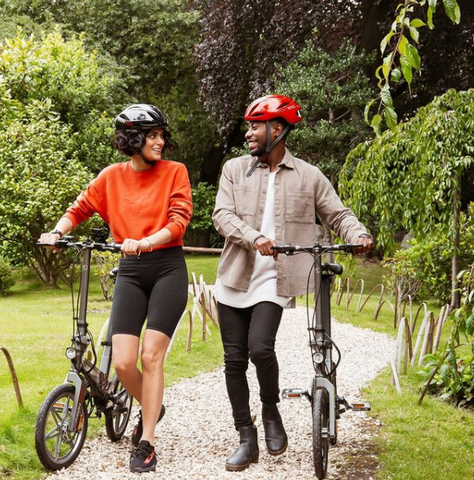 9) Foldable E-bikes are less obvious than a full bike when wrapped in paper. For those lucky enough to get a bike for Christmas or their birthday, it is always better when they can be surprised. Unfortunately, a standard bike is a little hard to hide. With a foldable bike, they look much more inconspicuous when under the tree.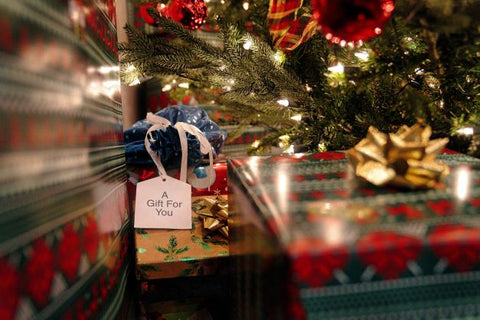 10) Foldable E-bikes keep their value. When deciding to sell your old foldable bike to buy a new model, the bike will still be worth a fair amount. Foldable electrics depreciate much slower than a standard bike.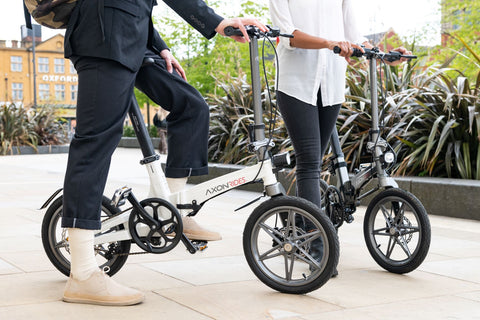 Are you looking to get your hand on an Axon Foldable Electric bike? Then we are here to help. By booking a test ride at one of our many stockists, you can try the bike before you buy it so that you will be delighted with your purchase.
To book a demo ride, see our full list of stockists here: