Nima Riahi
Holiday With Your E-Bike? What Do You Need To Bring?
Sometimes you need to get away from your busy life and take a short break. Whether you decide to take a trip to the countryside or spend a chilled weekend away at the beach, you deserve some time to rewind in 2022. 
Once you have decided to take a break and have booked your time off work, you need to pack the essentials. But what do you need to bring with you if you're planning on taking your e-bike?  
For the Backpack  
A cycle on those country roads or along the beach is a great way to relax. These long rides will keep you fit, full of energy and endorphins. But before any long ride, you should always prepare your bike. You should check that your bike is at the required tire pressure, and everything is running smooth. That's why it's essential you bring a mini repair kit and air pump. All our repair accessories are just the right size to pop in your bag during the day. 
As a cyclist we don't need to tell you to wear a helmet– but to keep your hands warm as the cool air hits or the April showers start to sprinkle, you should get your hands on some cycle gloves.  Axons own cycling gloves are comfy, stylish and available in various colours.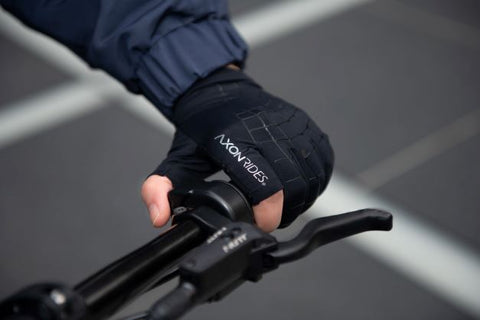 We also suggest some comfy and warm socks and waterproofs, and a reflective jacket to survive any British weather that may come your way…You can also never go wrong with some sun cream and a mini first aid kit, just to be on the safe side! 
Attachable necessities  
We all know that cycling can be exhausting and building up a good sweat can leave you dehydrated. So, the best way to keep your water on hand is with a bottle cage. These little gadgets are perfectly matched to fit any Axon ride. As well as a few bottles of water, you should also bring some snacks. Something light and full of energy, to keep your body fully fuelled.  
Legally, you should also have lights if cycling in the dark. Axon Rides have you covered, with powerful integrated lights to keep you safe and legal.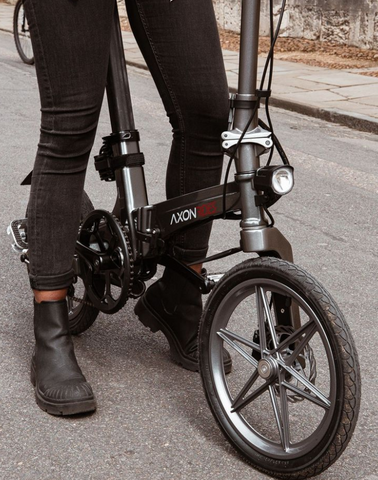 Finally, you might need to lock up your bike securely at the end of your ride. We have our very own bike lock, perfect for securing an Axon E-Bike. Lightweight and easy to carry in your bag or on your e-bike. 
Now that you have a complete list of the necessary items to bring on any cycling holiday make yours a holiday to remember and keep your bike in peak condition. 
From helmets and clothing to bike repair tools and spare parts, Axon has got you covered. Get ready to enjoy your ride by shopping the Accessory collection now.