Nima Riahi
Commuting to University Using An Electric Bike
Living and studying in the city of Oxford has its perks. The city is stunning, with history located around every corner. The morning commute alone will have you pass some famous tourist sites and Harry Potter locations. However, as a student, who may not have their own car or prefers to get around the city on the paths, the long and hill filled streets would be easier to trek using an E-Bike.
Now, you may be thinking, why can't I just get a traditional bike? My university has bike racks and they seem cheaper. Well, we are here to tell you why E-bikes are a great way for students to commute through Oxford.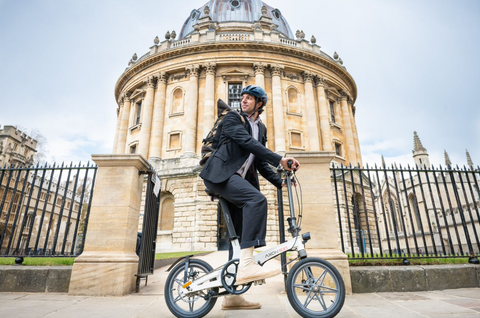 Electric bikes are lightweight and foldable
Depending on where you live, your commute to university may require a short journey on the train into Oxford Station, so it's important to have a bike that accommodates your full commute. That's why our E-bikes are easy to fold and carry, making them ideal for taking on public transport.
As they are so easy to bring on public transport and even the car, they are easy to bring to and from university during the half term.
Once folded, the bikes are easy to fold and store at university. You can keep them safe and by your side, instead of outside at a bike rack.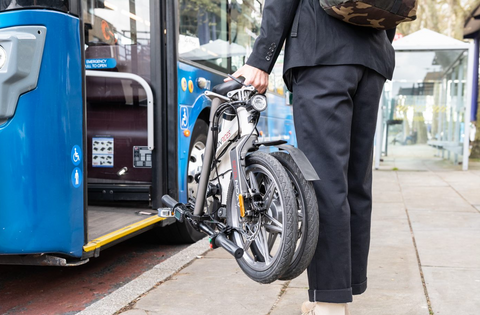 E-Bikes are cheaper than a car or travel pass
We all know that the average car for a young person is expensive to buy, insure, tax, park and fill up with petrol. Which is probably why many students don't have or choose not to use their car when at university. When they do, it costs the average student around £5 a day to park.
If you decide to get to university by bus, a yearly bus pass will cost you £585 a year, that's £1755 for your 3 years of study. A train pass will cost you over £1000 a year/ £3000 for the 3 years.
However, an Axon E-bikes start from just £1499 and will last you 3+ years of study. Meaning, an E-bike is a cheaper option for you.
See more of the city
Oxford has some beautiful cycle routes and shortcuts that just aren't available via car, bus or train. You can explore the hidden gems in a quieter area, without the need to actually walk anywhere. That's why urban exploring is also very popular with e-bike users.
Plus, you won't be alone. Just over 20% of people in Oxford choose to commute by bike, so why not join a cycle club or buddy up with a friend or housemate?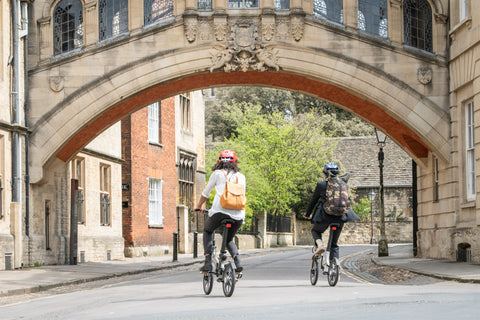 Wakes you up for your morning classes
A ride on a bike in the morning is a great way to keep you energised and ready for those 9am lectures. Even just a short cycle will give you more energy to burn throughout the day, increasing your brain activity and attention span during study sessions, workshops and exams.
No need to buy a gym membership
As a busy student, it's difficult to balance university, a possible part-time job and a social life. Add a workout routine into the mix and your free time will decrease even more. Luckily, by commuting to university by bike, you are guaranteed to burn a few calories. An hour on an e-bike can burn off a Mcdonalds Big Mac… over 500 calories!
And, if you get a little tired because you stayed up way too late, the pedal-assist of an E-bike will give you the help you need to get to your lecture.
You can read more about the health benefits of an E-bike in our blog post here.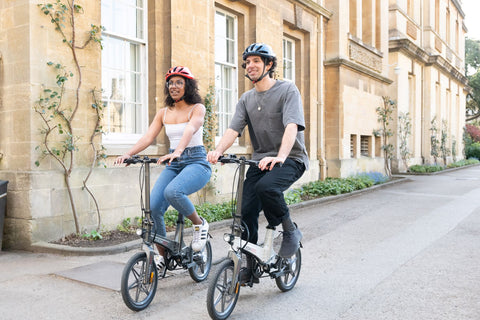 Axon Rides electric bikes are available in Oxford and Oxfordshire
We have locations all around the UK who stock Axons Rides, including Bike Shops throughout Oxford and Oxfordshire. Our stockist also let you book a demo ride, so you can try before you buy.
Here is a list of our stockists close to Oxford:
Sprocket Science: 26 High Street, Watlington, Oxfordshire, England OX49 5PY, United Kingdom
Broadribb Bicester: 83-85 Sheep Street, Bicester , England OX26 6JS, United Kingdom
Hargroves Cycles: Swindon, Unit 9, Penzance Drive, Churchward Park, Swindon, England SN5 7RX, United Kingdom
You can also find our full list of stockists here: https://axonrides.com/apps/store-locator/