Nima Riahi
Fold your electric bike for transport and storage in just 10 seconds
Space is at a premium. So the last thing you want is to give up half a room to a regular bicycle.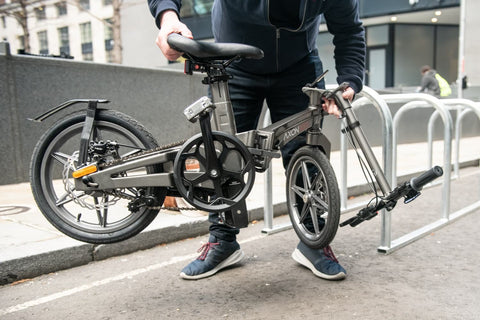 Axon Rides electric bikes fold down to just 25 x 64 x 76.5cm. This means you can store it just about anywhere. It fits snugly under a desk, at a table in a coffee shop and neatly in the corner of a room. Also, if you take it with you on a train or bus, you can relax and take a seat rather than stand awkwardly by the door!
Better yet, you won't have to wrestle with an over-engineered mechanism. You'll be able to fold and unfold your Axon Ride in 10 seconds, two clips and you are good to go. So whether you're running late for your morning commute, or just want to get to bed after a busy day your electric bike won't cause you any delays.
The folding mechanism is simple, but we've not let simplicity get in the way of safety. Folded and unfolded, your electric bike is solid and secure.